IOIOBox was designed from the ground up, driven by function, designed with style.
Say goodbye to feature bloated solutions, and hardware store compromises; and hello to the modular, feature rich (but optional), outdoor enclosure. The Perfect Enclosure, and Nothing Else.
Materials and Manufacturing
IOIOBox is family owned, supported by some of the best talent, right here in Oregon. Built for the worlds harshest environments we utilize powder-coated 0.9" aluminum. Being lightweight gives you the flexibility of being a one-person crew. Our enclosure was engineered to minimize weld points by maximizing bent metal, top that off with heavy grade stainless steel latches and hinges, and we can promise this will be the last enclosure you'll ever have to buy.
It Fits... No Matter Your Industry
The IOIOBox was designed by WISP engineers to provide an indoor/outdoor enclosure for every industry. All of us deserve better, no matter your industry.
WISP
ISP
Telecommunication
Audio
Traffic Control
Solar
Disaster Relief & Recovery
Irrigation/Sprinkler
Building Automation
Stage/Set Design
Agriculture
Industrial PLC
Outdoorsman/Huntsman
Triage / Emergency Services
Standardize With Ease
It all starts with the same box, that adapts to your every need.
All temperature regulation takes place in the door. With toolless removal, you can change the door of any IOIOBox from Airtight, to Vented, to a full featured HVAC unit. It's your call.
Accessories can be added during install, or after deployment. No more having to decided what your future needs now, you can add to it at anytime. This includes addiing additional RU, wood backers, DIN Rail, and more.
More Features and Benefits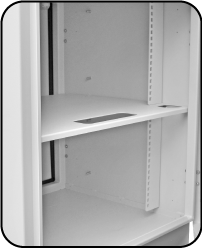 Dividing Shelf
A fully removable dividing shelf splits the enclosure in two allowing for the separation of necessary equipment. We've got more passthrough options than your standard enclosure, with 5 in total. Safe to say, you can run the cable "exactly how you'd like."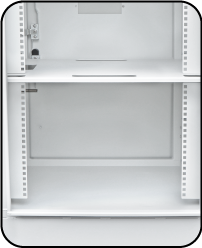 Oversized Battery Capacity
The lower compartment is designed to hold enough DC batteries to support your entire site through even the longest of power outages. It's separated from the upper compartment for added safety. 
Full Service Access
That's right! No more dropping screws in the bottom and performing endless finger pilates to retrieve it. Our doors span the entire surface of the enclosure, swing wide open, and completely detatch to provide easy access on opposite sides.
Weatherproofed
Simply put, weather ain't got jack on this box. Put it anywhere, it'll be fine. We promise.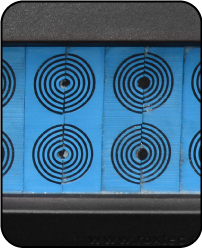 Customizable Cable Access
Fully customizable, the cable ingress/egress port is cut to fit the RoxTech 16 Port EzEntry, for a premium cable management solution. Or for a back to basics approach, all IOIOBoxes come with traditional cable glands. 
1U Rackmounts
We expect this box to last, you should too. So, racks are made utilizing square hole mount points and orders come with enough caged nuts to fill it. Never fear a stripped thread again. 
Air Ventilation
The Vented Door has two hooded vents with mesh screens. Go one step further with our MERV4 Filters to keep out the smallest of airborne particles. Don't stop there, increase your air exchange by adding our PowerVent with two high-volume fans (24V or 48V), powered via PoE or any DC source of your choice.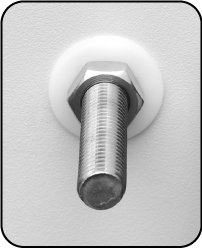 Built-In Grounding Rod
A 1/2" grounding rod built into the enclosure maximizes the possibility of arresting surges of all kinds. 
Floor Mounting
Designed to accept optional "through" Feet, the IOIOBox provides multiple options to weigh down, chain, or otherwise secure the enclosure. These feet have four holes for easy mounting to concrete pads or even casters.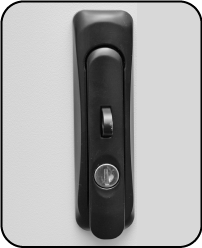 Security
Every door is outfit with a three-contact-point lock and latch. The spring actuating handle is rugged, with a pad-lock shackle and included keys. If latches were something people drooled over.... just sayin'.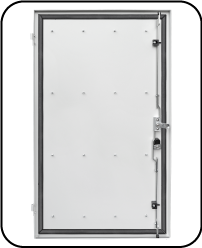 Additional Mounting Points
Since our front door is lined with mounting studs for all kinds of uses, we figured we better provide you with some. You can add a DIN Rail to any order to get a perfectly sized DIN Rail. Or a Wood Backer for a custom cut wooden plank allowing for true custom mounting. 
Experience The IOIOBox Difference